Paganicon 2017
Guests of Honor 2017
Paganicon is Excited to welcome Laura Tempest Zakroff and Michelle Belanger as our Guests of Honor for 2017 !
Thanks to our generous sponsors, we are once again welcoming two Guests of Honor to our event.
________________________________________________________________________________
Michelle Belanger
Michelle is an author, occult expert, presenter, singer, media personality, gifted psychic and skilled energy worker. We couldn't think of a better expert to help us with our Through the Looking Glass: A Journey to the Underworld
theme! Michelle has authored more than two dozen non-fiction books on paranormal and occult topics. These include Walking the Twilight Path(Llewellyn) which discusses the concept of death as change, and learning to reach across the veil to communicate with spirits as helpers, guardians and teachers. Michelle's other books include Conspiracy of Angels (Titan), The Dictionary of Demons (Llewellyn), The Psychic Energy Codex (Weiser) and Sacred Hunger: The Vampire Myth and Reality (Dark Moon).
Michelle has notably been featured on A&E's Paranormal State as a medium and occult expert. You can check out an introduction of her appearances here! She is also a prominent advocate for the vampire community and is a self-described psychic vampire. She serves as a spokesperson for the modern vampire subculture, leading discussions, appearing in film and TV shows about vampires in myth and modern day.
Michelle is the founder of House Kheperu, the House of Transformation. Their name comes from the ancient Egyptian word that means "to transform, to change, to become". As a teacher, Michelle's philosophy is to help students "explore many different ideas and beliefs, so they may ultimately discover the path that is most right for them".  House of Kheperu believes that knowledge is a right, not a privilege. As such the group maintains a free website with information available to all who choose to seek it.
If that's not enough to sell you on the enchantment that is Michelle, she's also a musician! Michelle has performed with Nox Arcana as guest vocalist on their album Winter's Knight (2005). She wrote the songs for Nox Arcana's Album Blood of Angels (2006). She has also performed with the band URN and appeared on their albums Desecrated Ashes (2003) and Dancing with the Demigods (2006).
This will be Michelle's first visit to Paganicon and we're so excited to have her as a Guest of Honor. If you would like to learn more about Michelle you can find all of her work and more on her website.
We would like to thank Llewellyn for sponsoring Michelle at Paganicon 2017.
________________________________________________________________________________
Laura Tempest Zakroff
Laura can be described by many different labels: artist, author, blogger, dancer, designer, event producer, teacher, witch – to name a few. Coming from a long line of diverging cultures, she is most at ease in blending her skills and inspirations throughout all of her work.
A practicing Modern Traditional Witch for over 20 years, her early days were defined by being a community leader and public spokesperson for Paganism. She blogs at Patheos as A Modern Traditional Witch and at Witches & Pagans as Fine Art Witchery. Her first book, The Witch's Cauldron, is due out from Llewellyn Worldwide in May 2017. In addition to her writing, Laura is a professionally trained visual artist and designer, receiving her BFA in Printmaking from the Rhode Island School of Design (RISD), and having trained at Fleisher Art Memorial in Philadelphia and the South Carolina Governor's School for the Arts.
As Tempest, she has been a major pioneer of fusion bellydance for over 15 years. Her compellingly artful performances exemplify her distinctively theatrical, unique, and expressive style that are rooted in oriental dance technique with a transcendent approach. Tempest's fascination with sacred and ritual dance lead her to bellydance, and she strives to help others connect mind, body, and spirit through movement. To further education and foster community, she produces the Waking Persephone and Tapestry Dance Festivals. Visit her Facebook Page or check out her website Here.
Tempest performs with her partner Nathaniel Johnstone, with the Nathaniel Johnstone Band. This will be Laura and Nathanael's' second visit to Paganicon, having joined us last year.
Featured Guests
2017 Featured Guests Jason Mankey and Prudence Priest. Featured Ritualists Nels Linde & Judy Olson-Linde!
Read on for more Details.
FEATURED GUEST: JASON MANKEY
Jason Mankey is a Wiccan­Witch, writer, and wanna­be rock and roller.  He has been a part of the greater Pagan community for over twenty years and has spent nearly half that time teaching and speaking at Pagan conventions across the United States and Canada.  His first book for Llewellyn came out in 2016 and his latest book ("The Witch's Book of Shadows") has just recently been released.  He lives in Sunnyvale, California where he and his wife Ari help lead two local covens.  Because they don't want to be outnumbered, Ari and Jason only have two cats. Not only does he write posts for the Raise the Horns blog site at Patheos Pagan, he is also their channel editor. You can check out his blogs at www.patheos.com/blogs/panmankey.

FEATURED GUEST: PRUDENCE PRIEST
In the 60's Prudence Priest was a proud card-carrying member of W.I.T.C.H. [Women's International Terrorist Conspiracy from Hell – they tried to cast a circle around the Pentagon during the Vietnam War.] She has been high priestess of Amaranth Energies [a Greco-Norse coven] since 1971, CEO of Freya's Folk, and the California Utlandr Alliance, current board member of the American Vinland Association, Ambassadress of Romuva in the USA, Member of the European Congress of Ethnic Religions, Elder in the Covenant of the Goddess and The Ring of Troth, Soror Glynda & priestess in the OTO and translator of "Demonographia", member of the Rune Gild, Fellowship of Isis, and Circle of Ancient Sisters. She has been an activist for Heathen and Feminist causes for over fifty years. Prudence currently lives in and runs Perchtenhof (home of the followers of the Bright Goddess) in Antioch, CA.   Visit her blog for photos and travelogues at prudenttravels.blogspot.com.
FEATURED RITUALISTS: Nels Linde & Judy Olson-Linde
We are very pleased to welcome Judith Olson-Linde and Nels Linde as our Featured Ritualists for Paganicon 2017!
Judith Olson-Linde and Nels Linde are a married, collaborative team who are active volunteers, ritualists, community organizers and leaders in the Minneapolis/St. Paul area. Their book "Taking Sacred Back – The Complete Guide to Designing and Sharing Group Rituals" was released by Llewellyn Publishing in May 2016. They have been guest ritualists at national Pagan festivals and have written and led over a hundred rituals for groups from 50 to 800 participants. In February 2007 they organized the Veterans' Pentacle Rights Ritual at the Minnesota State Capitol. They have been guest presenters at the Pagan Spirit Gathering, Heartland Pagan Festival, Pantheacon, Sacred Harvest Festival, Wic-Can Fest, the Pagan Unity Festival, and other events. Nels and Judy have sat on guest discussion panels, offered community rituals, and presented workshops on developing community leadership skills, ritual design and production, and community percussion.
SPECIAL GUESTS Sharon Day and Chief Arvol Looking Horse.
This year Paganicon is fortunate to have two very special guests, brought to us by generous community donations!
SHARON DAY
Sharon M. Day, is enrolled in the Bois Forte Band of Ojibwe.  She is one of the founders of the Indigenous Peoples Task Force, formerly known as the Minnesota American Indian AIDS Task Force.  IPTF began as a volunteer organization (1987) with all of the work performed by the Board of Directors.  In September of 1988, IPTF hired its' first staff.  Ms. Day was hired as the Executive Director, May 1990 and has served in this capacity since then.  IPTF has strived to ground its' services in the culture of American Indian people. Sharon M. Day is  2nd degree M'dewiwin and follows the spiritual path of the Anishinabe people. She is an artist, musician, and writer.
Ms. Day has received numerous awards, including the Resourceful Woman Award, the Gisela Knopka Award, BIHA's Women of Color Award, The National Native American AIDS Prevention Resource Center's Red Ribbon Award, and most recently, the Alston Bannerman Sabbatical Award.  She is an editor of the anthology, Sing! Whisper! Shout! Pray!  Feminist Visions for a Just World; Edgework Books, 2000.
She has led 5 Water Walks.  The southern direction of the Mother Earth Water Walk which began at Gulf Port, Mississippi and ended in Ashland, Wisconsin, the Mississippi River Water Walk, the Seneca Lake Water Walk, the Ohio River Water Walk, and the Pokegama Water Walk.  Each walk is ceremony to save the life giving force of water.
CHIEF ARVOL LOOKING HORSE
Arvol Looking Horse was born on the Cheyenne River Reservation in South Dakota. At the age of 12, he was given the responsibility of becoming the 19th Generation Keeper of the Sacred White Buffalo Calf Pipe, the youngest ever. He is widely recognized as a chief and the spiritual leader of all three branches of the Sioux tribe.
He is the author of White Buffalo Teachings and a guest columnist for Indian Country Today. A tireless advocate of maintaining traditional spiritual practices, Chief Looking Horse is the founder of Big Foot Riders which memorializes the massacre of Big Foot's band at Wounded Knee.
Chief Looking Horse's prayers have opened numerous sessions of the United Nations and his many awards include the Juliet Hollister Award from the Temple of Understanding, a Non-Governmental Organization with Consultation Status with the United Nations Economic and Social Council. He lives on the Cheyenne River Reservation in South Dakota.
Film interviews with Arovl Looking Horse on spirituality, tribal history, and advice for American Indian youth are a featured part of the documentary film and DVD on the Crow Shoshone Sun Dance entitled Native Spirit: The Sun Dance Way. An illustrated book, Native Spirit: The Sun Dance Way, by Thomas Yellowtail (recorded and edited by Michael Fitzgerald), also features his counsel.
Chief Arvol recently published an open letter detailing an Indigenous Perspective on current events in America. You can read his wise words here.
Paganicon would like to thank the following Individuals and Community groups for their financial support in bringing these special guests to Paganicon:
Daughters and Sons of Yta
Robin Mavis
The Standing Stones
Keith Vorderbruggen
Our Lady of Celestial Fire
Heather Roan Robbins
Earth House
Wiccan Church of MN
Atchingtan
Equinox Ball
Paganicon Equinox Ball Presents The Nathaniel Johnstone Band!
This year's theme is  Through the Looking Glass: A Journey to the Underworld.  
The Nathaniel Johnstone Band hails from Seattle, WA, led by multi-instrumentalist Nathaniel Johnstone (violin, viola, banjo, mandolin, and guitar).
Their vibrant sound crosses boundaries and borders, resulting in a blend of European, Middle Eastern, and South American music with Jazz, Rock, Surf, Folk, Gothic, and Steampunk influences.  With an extensive collection of songs inspired by myths and fairy-tales, be prepared for a mythpunk audio-visual experience that will keep you dancing! You can find more about NJB and listen to their music on their website or follow them on Facebook.
FRIDAY NIGHT CONCERT WITH WENDY RULE!
With special Guest Kari Tauring.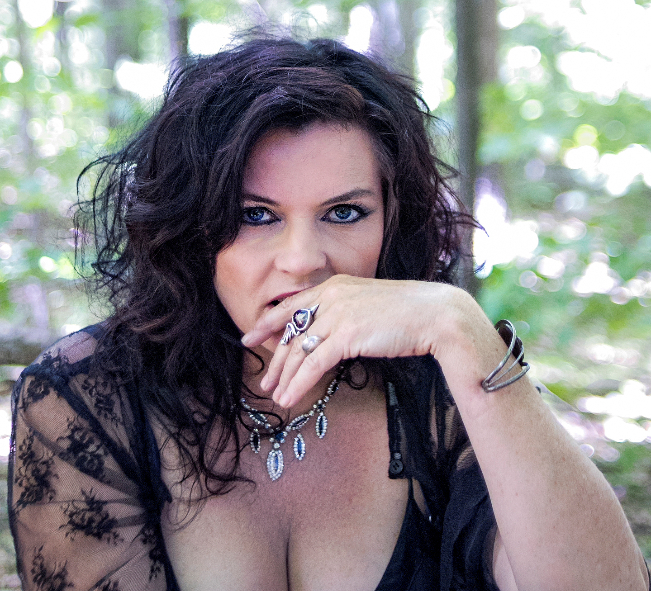 Australian Visionary Songstress Wendy Rule weaves together music, Magic and ritual to lead her listeners on an otherworldly journey of depth and passion. Wild, wise and empowering, Wendy's live performances honor her deep spiritual and magical connection to Nature. Her extraordinary voice and beautiful lyrics, combined with her passionate storytelling, invite us to celebrate and connect with our own deep Magic.
Over the past two decades, Wendy has released 10 studio albums and numerous side projects, and has toured the world extensively as both a performer and an inspirational Magical Life Coach and workshop presenter. Alongside her busy touring schedule, Wendy also facilitates the online mystery school "Living a Life of Magic", co presented with her husband and Magical partner Timothy Van Diest.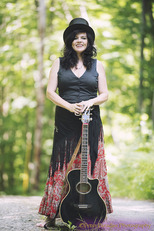 Originally from Melbourne, Wendy relocated to Oregon, USA in 2014, allowing her an even stronger connection to her ever growing US fan base, and providing daily access to the wild Nature that inspires her unique and transformational work. You can find Wendy on her website,Facebook and Twitter.
This is Wendy's first visit to Paganicon and we know everyone will make her feel welcome.
Nordic Root
s musician, dancer, and staff carrier Kari Tauring will open the evening with cow calls, horn blasts, runes songs and Finnic runos. This will be the fourth time Kari has musically welcomed Wendy Rule to Minnesota. Each time was more joyful than the last!
Photo by Heidi Ehalt, taken at the sacred Cold Water Spring, Minneapolis
Third Offering Art Gallery
AND THE 2017 GALLERY'S ARTISTS ARE….
Laura Tempest Zakroff
Prudence Priest
Anaar Niino
Angela Raincatcher
April Niino
Beth Hansen
Bonita Blumenauer
Chuck Burton
Hana Russell
Helga Hedgewalker
Jennifer Taylor
Katie Clapham
Leora Effinger-Weintraub
Paul B Rucker
Randy Howlett
Shauna Aura Knight
Vendors
Paganicon Party Suites
Party suites are an important part of any convention – they offer a place to relax, socialize, and get to know other presenters and guests on a more personal, unstructured level. They can be an oasis of calm, to have a cup of tea and a snack before diving back in to the con, or they can offer a raging party and lots of excitement. Quirky themes, amazing decorations, and wonderful people give them each their own unique character. Paganicon's Party Suites are located on the 2nd floor, in the row of suites overlooking the pool and lower atrium, just outside of the programming area of the convention. Party Suites are for paid convention attendees only.
Here are the Party Suites that will be at Paganicon 2017!!
Room 223 – Hosted by SweetWood Temenos
Return of the Sun Goddess! SweetWood's two year cycle alternates Sun God/Moon Goddess with Moon God/Sun Goddess . In addition to featuring the Sun Goddess, we'll have 5 altars to our 5 core values. We will have an opening water-sharing ritual at 8:00pm on Friday, and a closing water-sharing ritual at 11:00am on Sunday.
Room 224 – Hosted by Pagans of Color & Allies
Our suite will emphasize diversity of Paganicon attendees.
Room 225 – Hosted by Deeply Rooted
This year, we'd like to show the good folks of MN & West WI that we're some super, fun-loving people, so we have decided to provide a Games Suite for Paganicon goers! Board games, role playing games, card games (Magic: The Gathering anyone?). 🙂
Room 226-227 – Paganicon Hospitality Suite
Feel free to hang out in the Paganicon Hospitality Suite during down time. We will have the always popular nacho cheese machine, coffee, punch and various snacks during Convention hours.
Room 228 – Hosted by The Coven of the Standing Stones
Cross the Styx to the land of the Standing Stones, the visit may change you for all time.  Come sit a spell and share a story or two.  The Styx and Stones may mend your bones…  Enjoy a cup of coffee or tea and a biscuit or two while we discuss the mysteries of the Underworld.  Are you on the path to Hades or the Elysium?  Aaru or Duat,  Annwn or Mag Mell?  Valhalla, Folkvangr, Hel or Helgafjell?  Where are you going?  Come in, have a drink, and talk to our Travel Agent to discuss your voyage.
Room 229 – Hosted by Atchingtan
Atchingtan offers a serene space, a green retreat from stress, and a calm sanctuary where you can relax and recharge.  For people and life!
Room 230 – Hosted by Leaping Laughter Lodge: Ordo Templi Orientis
Leaping Laughter OTO Lodge offers an Egyptian-themed candle-lit (LED, of course!) quiet space with healthy snacks, interesting beverages and ambient music.  We will also present occasional talks by our members about the OTO, our magickal practices and other pertinent subjects.
Room 231 – Hosted by Sisterhood of Avalon
The Sisterhood of Avalon will welcome guests interested in learning more about our organization. There will be refreshments provided, and information distributed.
Room 232 – Hosted by Earth House Project, Inc
Celestial Picnic in Paganicon – picnic fare, camping chairs, a campfire, trees and stars.
Paganicon 2017 Programming schedule