Kari Tauring
Kari Tauring is a Nordic folk musician, dancer, and storyteller and author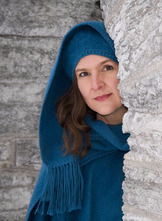 of "The Runes: A Deeper Journey". A volva in Old Norse, she "carries the staff" of spiritual tradition within the folkway of her Nordic ancestry through performance, education, and authorship. Kari combines deep scholarship and personal practice to create new interpretations of what it means to be Nordic. Called "innovative folk" music, Tauring gives modern relevance to the ancient poems and songs that inspire her.
Kari played original folk music in the Twin Cities and around the Midwest from the early 1990's. From 1999 – 2006 she produced large scale Winter Solstice celebrations with original music, dancers, puppets, and visual artists.
Her early studies of Runes and ancient texts about them (1989) began making their way into her musical life in 2003 as she began reconstructing the staff carrying women's traditions of her Norwegian heritage. Using the staff and stick for chanting runes is at the center of  Volva Stav is her original work aligning the body and its processes with the world tree and its many inhabitants. The use of staff rhythm for journey and rune expression, and the dovetailing of rune postures within Nordic movement is unique, profound, and well received around the world.
Kari began studying Scandinavian folk dance in 2006 and putting rune postures to traditional Scandinavian folk dances sparked her programs in Nordic Roots Dance in 2011. She continues to dance in performance groups, teach runes in the dance workshops, and connect the very ancient to the very modern through the threads of these folk ways.
Clio Ajana
Clio Ajana is a lesbian columnist for The Wild Hunt, a Mystic in the Hellenic Pagan Mystery
Tradition and an Archieria for Thiasos Vestales Prima, the first House of Our Lady of Celestial Fire (E.O.C.T.O), an LGBT-integrated Thiasos that has served the Alternative Spiritual community in the Twin Cities since 1998.  Clio Ajana also practices Romuva (Baltic Heathenry). She has been an active participant in the Pagan Twin Cities community since 2004.  Ajana's early studies of numerology and astrology eventually led her to embrace the Hellenic Pagan Mystery Tradition in 2006.  Her religious interests include aging, numerology, astrology, rituals for group empowerment, prison ministry, and writing as a spiritual practice.
As a writer, Clio Ajana is drawn to issues surrounding minority cultures that are often considered invisible within the larger Pagan, Heathen, and Polytheist communities such as aging, death, issues of race and diversity in the larger community, and the incarcerated. Her writings and reviews have appeared in Facing North: A Community Resource, the Patheos blog, Daughters of Eve, and in the anthologies  Shades of Ritual: Minority Voices in Practice  and  Bringing Race to the Table: Exploring Racism in the Pagan Community.   She considers everything in her life to be touched by her religious practice and spiritual beliefs. She can be found on Facebook as Clio Ajana, on her blog www.clioajana.com, and monthly through her column in The Wild Hunt where she looks at everyday life through a spiritual lens.
Moonraven-Iuvantas
Moonraven-Iuvantas is a devoted practitioner of Hellenic-Alexandrian Witchcraft & Spiritual Tradition, where he has called home since 1989. As a student of FSCJ in Jacksonville, FL he is currently finishing an AA degree (with a strong emphasis on Mathematics & Earth/Space Science) and plans to continue forward with a bachelor's degree in digital media/Multimedia Technology. Moonraven's goal is to learn the Liberal Arts & Applied Sciences from a Dionysian perspective.
Among his many years of Service to Multicultural Pagan Faith & Community, Moonraven has earned great respect in his various titles and accomplishments; most notably: Founder & Senior Clergy for
Church of Uranus ~Temple of Olympus (EOCTO) US Ambassador for the Threskian Mysteries within Φράτρα Μυστηρίον Αδύτον Αδυτύν Vice-President for NE FL Pagan Leadership Coalition (Jacksonville, FL) He is a member of several unique Spiritual bodies within the Greater Worldwide Pagan Community; among the most notable are Kemetic Orthodox Temple (under the direction of Dr. Tamara Suida) and Chosen Path Church (within the Corellian-Nativist Tradition of Wicca, where he will become a 1st degree Initiate soon).
A practicing Greco-Buddhist and Balto-Slavic Вештиц (vestac), he is currently studying both Greek and Serbo-Croatian languages. As a Devotee of Perkūnas, he also practices the Romuva Romuva Tradition. His Passion and Service to the Divine includes discovering & revealing the hidden (and buried) connections of African Spirituality and Indo-Greek Religions, as well as diminishing the Godless ethnic segregation & cultural ignorance that plague these beautiful traditions.